Streamline workflows
Master data sync
Update Customers, Accounts, Products or Price Books in real-time or via batch process.
Opportunity-to-order
Convert a Salesforce opportunity into an SAP order or quote and send back to Salesforce to generate a contract.
Order-to-cash
Empower Sales with full visibility into order status, shipping, invoicing and accounts receivable.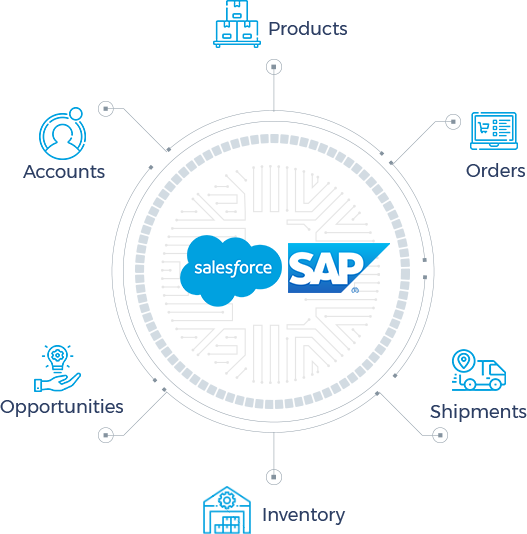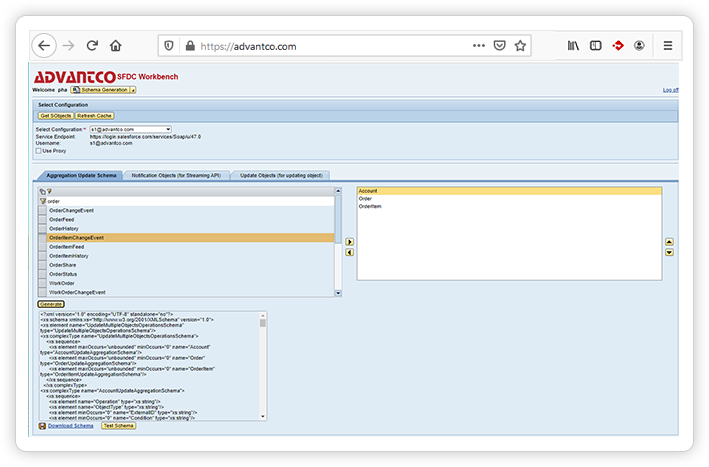 Key capabilities

Security
Authenticate with User Session ID, 0Auth 2.0 or two-way SSL.

Configuration
Support standard or custom objects with any SFDC API - SOAP, REST, Bulk, Streaming - or with custom SOAP and REST APEX APIs.
Enable real-time Platform Events and Outbound Messaging.
Test queries and generate schemas with Advantco Workbench.

Monitoring
Enable enhanced error handling and bulk message monitoring.

Supported platforms
All SAP PI/PO versions from 7.3 to 7.5.
Cloud Integration (part of SAP Integration Suite)
Integration flows

Outbound
Empower Sales and Support with real-time updates on orders, shipments and invoices to Salesforce. Simplify customer migrations and mass product and pricing changes with batch updates.

Inbound
Simplify quotations and orders with real-time opportunity sync into SAP. Join and query SFDC objects with SOQL, call custom APEX services, & push custom events with Platform Events and Outbound Messaging.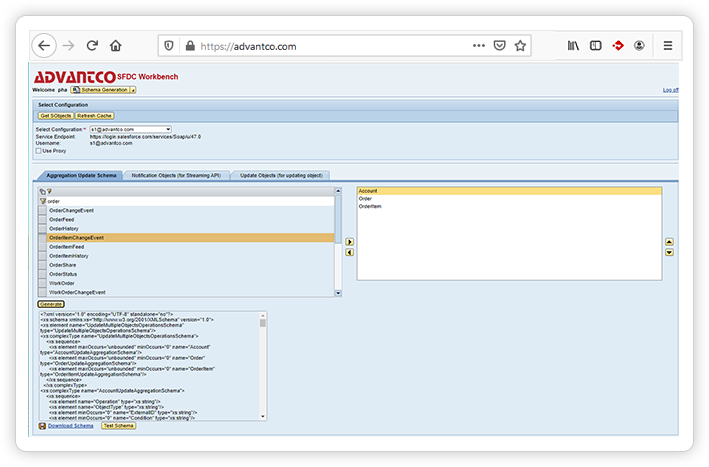 Top 5 features

Security
Two way SSL/TLS connectivity provides higher access security which verifies that request is coming from Salesforce organization

Efficiency & Ease of Use
Channel communication is dynamic, where one channel can switch between Salesforce APIs reducing time consuming integration steps
Automatic pagination of large SOQL-SOSL seamlessly which helps reducing time consuming and code-heavy integration steps
Data batching mechanism automatically splits large payload into series of smaller messages which reduces time-consuming and heavy coding

Web-based Workbench
Bring the rich experience by using responsive web design principles and provides an optimal viewing and interaction experience.
Module is included in the bundle deployment file, no other deployment steps.
Don't have to install any tools such as Eclipse plugins.
Manage the defined connections to Salesforce tenants and reuse them in iFlows
Why Advantco vs. SAP Salesforce Adapter
Switch between Salesforce APIs

Connection - Two way SSL/TLS

SOQL SOSL - Automatically pagination mechanism, Update Trigger

SOQL after Streaming API / OBM Message

Data batching mechanism on Receiver channel
Trusted by leading enterprises
Five star reviews from each of these customers.