SAP to Salesforce Integration with Advantco's Adapter
Modern businesses operate in a dynamic environment where seamless data exchange and collaboration across various systems are crucial for success. Integrating your SAP ERP (Enterprise Resource Planning) system with Salesforce CRM (Customer Relationship Management) software can unlock a world of possibilities, empowering you to streamline workflows, enhance data quality, and deliver exceptional customer experiences.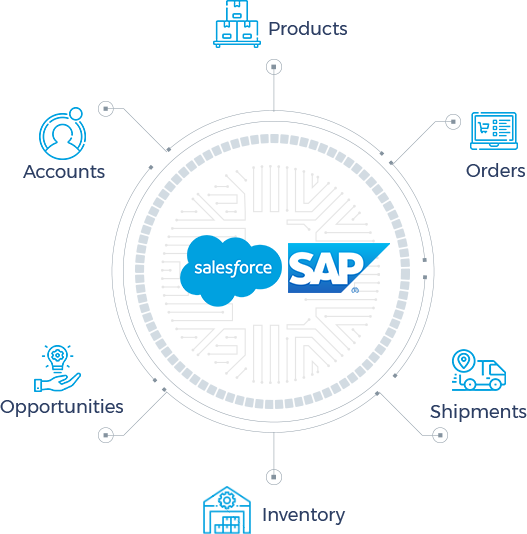 Benefits of Integrating SAP and Salesforce

Enhanced Data Quality
By eliminating manual data entry, integration ensures consistent and accurate data across both systems, minimizing errors and enhancing decision-making processes.

Improved Operational Efficiency:
Streamlined data exchange automates business processes, reduces errors, and saves time, allowing employees to focus on higher-value tasks. This can lead to increased productivity and cost savings.

Enhanced Customer Experience:
A unified view of customer data enables personalized interactions, faster issue resolution, and improved customer satisfaction. This can lead to increased customer loyalty and revenue growth.

Increased Visibility and Decision-Making:
Consolidated data gives managers real-time insights into sales performance, customer trends, and inventory levels. This enables informed decision-making and improved business outcomes.
Integrating SAP and SFDC (Salesforce): Advantages and Considerations

Point-to-Point Integration:
Establishing direct connections between specific modules or functions in SAP and Salesforce offers flexibility but can become intricate and challenging to manage with increasing integrations.

Enterprise Service Bus (ESB):
An ESB is a central hub for integrating various applications, including SAP and Salesforce. It provides a standardized interface for data exchange and simplifies integration management.

Cloud Integration Platforms (iPaaS):
Cloud-based iPaaS solutions offer pre-built connectors, drag-and-drop interfaces, and scalability, making them a popular choice for cloud-based applications like SAP and Salesforce.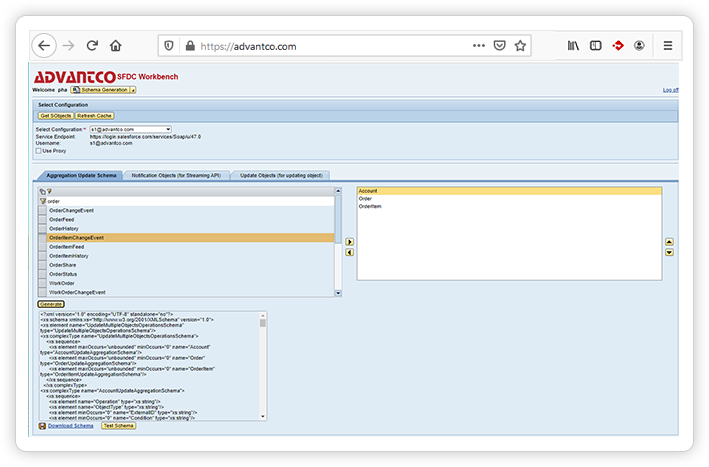 Advantco: Your Partner for SAP to Salesforce Integration Success
Easy to Use: Utilize user-friendly interfaces and drag-and-drop functionality for simplified configuration and management.
Scalable: Accommodate your growing business requirements with flexible and scalable solutions that can handle increasing data volumes and complex integrations.
Secure: Employ robust security measures, including authentication options, data encryption, and access controls, to safeguard sensitive information.
Key Features of Advantco SAP to Salesforce Integrations

Two-way data synchronization:
Keep your SAP and Salesforce data in real-time or via a batch process.

Opportunity-to-order
Convert a Salesforce opportunity into an SAP order or quote and send it back to Salesforce to generate a contract.

Order-to-cash:
Empower your sales team with full visibility into order status, shipping, invoicing, and accounts receivable.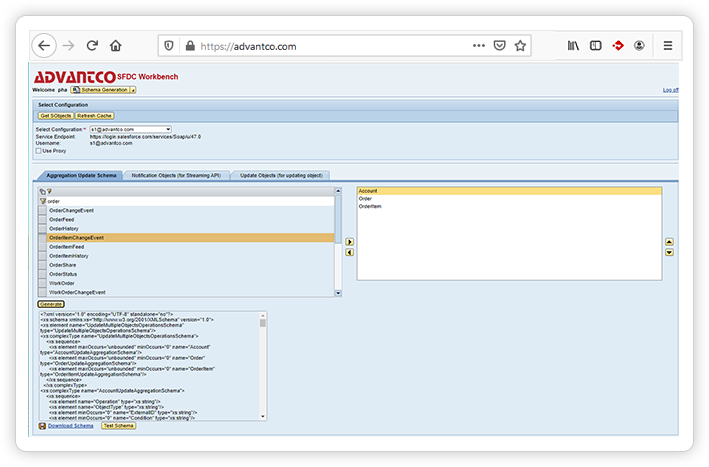 Security
Authentication Options: Authenticate using User Session ID, 0Auth 2.0, or two-way SSL for robust security measures.

Configuration Capabilities
API Support: Support standard or custom objects using any Salesforce (SFDC) API, including SOAP, REST, Bulk, and Streaming. Additionally, integrates with custom SOAP and REST APEX APIs.
Real-Time Integration: Enable real-time integration with Platform Events and Outbound Messaging for seamless data flow.
Query Testing and Schema Generation: Test queries and effortlessly generate schemas using Advantco Workbench for efficient configuration.

Monitoring Features
Error Handling: Enable enhanced error handling to ensure a smooth and error-free integration.

Bulk Message Monitoring: Monitor bulk messages efficiently to track and manage large volumes of data seamlessly.
Advantco vs. SAP Salesforce Adapter
Switch between Salesforce APIs

Connection - Two way SSL/TLS

SOQL SOSL - Automatically pagination mechanism, Update Trigger

SOQL after Streaming API / OBM Message

Data batching mechanism on Receiver channel