Streamline workflows
Master data sync
Update Customers, Accounts, Products or Price Books in real-time or via batch process.
Opportunity-to-order
Convert a Salesforce opportunity into an Oracle order or quote and send back to Salesforce to generate a contract.
Order-to-cash
Empower Sales with full visibility into order status, shipping, invoicing and accounts receivable.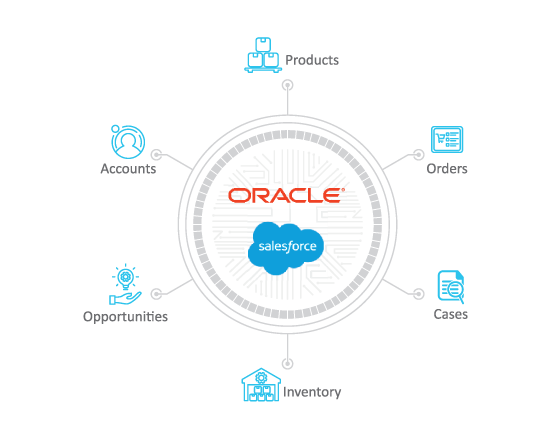 Sync any Accounts, Sales or Invoice data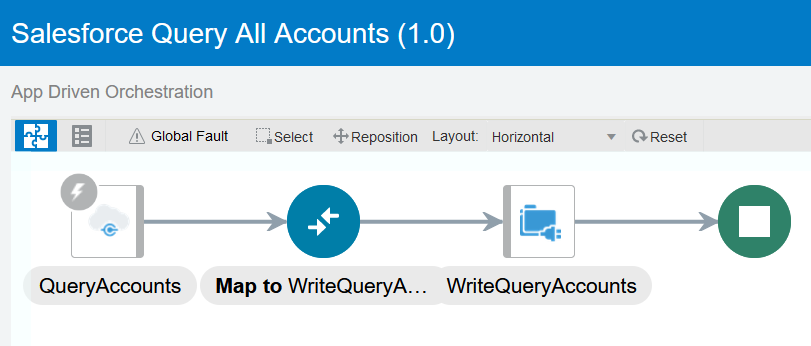 Key capabilities

Security
Authenticate with User Session ID, 0Auth 2.0 or two-way SSL.

Configuration
Support standard or custom objects with any SFDC API - SOAP, REST, Bulk, Streaming - or with custom SOAP and REST APEX APIs.
Enable real-time Platform Events and Outbound Messaging.
Test queries and generate schemas with Advantco Workbench.

Monitoring
Enable enhanced error handling and bulk message monitoring.

Supported platforms
Integration flows

Outbound
Empower Sales and Support with real-time updates on orders, shipments and invoices to Salesforce. Simplify customer migrations and mass product and pricing changes with batch updates.

Inbound
Simplify quotations and orders with real-time opportunity sync into Oracle. Join and query SFDC objects with SOQL, call custom APEX services, & push custom events with Platform Events and Outbound Messaging.
Oracle to Salesforce Demo
Why Advantco vs. Oracle's Salesforce adapter
Compatibility

Convenience

Security

Maintenance

Streaming API, Bulk 2.0, Platform Events


Support multiple object types in one call


Supports two-way SSL


Flexible, customer driven release cycles
ORACLE


Not available


Not available


Not available


Limited to OIC release schedule
Does not require proficiency with third-party apps and APIs

Does not require proficiency with third-party apps and APIs

Does not require proficiency with third-party apps and APIs

Does not require proficiency with third-party apps and APIs

Does not require proficiency with third-party apps and APIs

Does not require proficiency with third-party apps and APIs

Does not require proficiency with third-party apps and APIs

Does not require proficiency with third-party apps and APIs

Does not require proficiency with third-party apps and APIs

Does not require proficiency with third-party apps and APIs